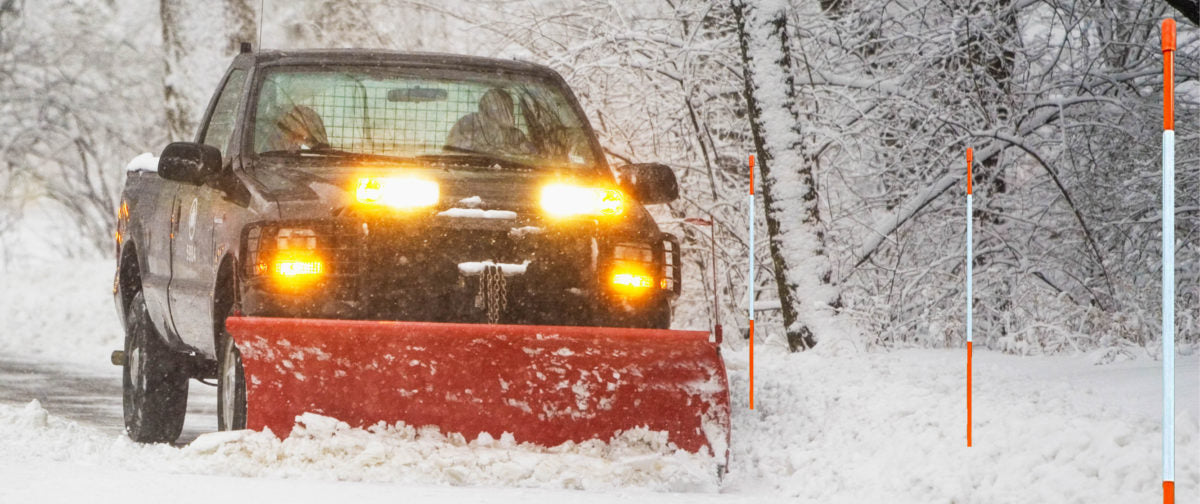 Great snow plow driveway markers,The fiberglass rod is divided into 4 sections, the length of which can be assembled freely, the longest can be 51 inches, and the shortest can be assembled 16 inches snow stakes 3.2 inch round lens have excellent reflection. 
You can see the driveway more clearly at night or in any weather. Perfect for indicating the area that needs special attention, like parking area, bend, lawn, landscaping, yard, ditch. 
Add safety Driveway Markers can help you and protect your lawn and landscaping by identifying land boundaries, furrows and other frontage hazards by day, night or in bad weather.
The driveway marked snow stake are 5/16 "in diameter and are very durable and have a long service life, Also, The plow stakes are arrow tipped at the bottom so that they pierce the ground with ease.Fiberglass Driveway Marker with 8mm reflector
Snow stakes with reflective tape are much more noticeable, providing a clear boundary even in minimal light. Even though they're more expensive, the increased visibility can justify the cost, especially for irregularly shaped plots and curved drives. Non-reflective markers are best suited to straightaways or areas where visibility isn't as vital. For areas that accumulate deep snow, you might try driving a non-reflective marker into the ground, then attaching a reflective one to the top. This will give the stake greater height and save you some cash by using a less costly marker as the base. If you need to use reflective markers but also want to cut down on cost, try alternating stake types; one reflective first, then a non-reflective, and then another reflective, and so on. This will keep expenses low but still protect your equipment and property from damage.
We are here, as rock support for you at any time. To supply premium profiles and service is the reason we are here.
Over 20 years of FRP/GRP products manufacturing experience, an ISO certificated professional pultrusion manufacturer, a professional manufacturer, and seller of FRP products integrating R&D, design, and production, we are dedicated to providing more FRP/GRP profiles and related composite products for our customers. Besides, we can supply whole solutions to your industrial projects for efficient and safe working.Our products are manufactured with high-quality raw materials, mainly engaged in the production and sales of FRP pultruded profiles, FRP molded gratings, Fiberglass Rod, Fiberglass tubes, Fiberglass driveway markers, Fiberglass Stake, Fiberglass Flat Bar, etc.
Get More Information from https://www.safemarkers.com/
Dec 21, 2021

Category:

News
Comments: 0